NISUS CORPORATION APPOINTS JEFF THOMAS AS SOUTHERN REGIONAL SALES MANAGER FOR WOOD PRESERVATION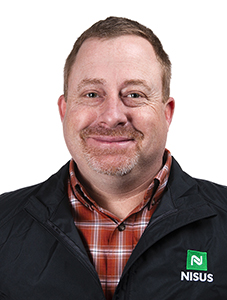 Knoxville, TN, February 5, 2021 – Nisus Corporation is pleased to announce the addition of Jeff Thomas as Southern Regional Sales Manager in their Industrial Wood Preservation Division. He will support the company's sales of QNAP® copper naphthenate and Cellutreat® DOT borate to the pressure treatment market across the southern U.S from New Mexico to the Carolina coast. Thomas will work directly with railroads and utilities providing performance and environmental information as well as working with our technical team on updating specifications. Thomas will also work with pressure treatment companies to incorporate these treatments into their manufacturing processes.
A veteran Sergeant E-5 marine with a tour of duty in Afghanistan, Thomas has several years of experience in the railroad industry with Unitrac Railroad Materials, including inventory and operations coordination, systems operations, master scheduling and manufacturing management.
"After having worked in the railroad industry for nine years, I'm excited to join the team at Nisus Corporation," said Thomas. "I look forward to continuing working with the great people in this industry."
"We're glad that Jeff is joining our team," said Ken Laughlin, Division Vice President Industrial Wood Preservation of Nisus Corporation. "With his unique skill sets, I believe he will be a great fit with our group and have great success working with our customers."
Nisus is a privately held company that manufactures sustainable products for the professional pest control industry, industrial wood protection industry, and the agricultural liquid micronutrient industry at its manufacturing plant in Rockford, TN.
---
If you would like more information about this topic, please contact Jim Gorman at 800-264-0870 or email at jimg@nisuscorp.com.
VIEW ALL
Nisus Corporation is proud to announce that they have earned their Responsible Care® certificat...

Nisus Corporation is pleased to announce that Javier Ramos has joined the company as a Territor...

Nisus Corporation is pleased to announce that George E. Williams, ACE, PHE has joined the Nisus...