George E. Williams, ACE, PHE Joins Nisus as Northeast Area Manager
Industry expert will expand Nisus presence across Northeast.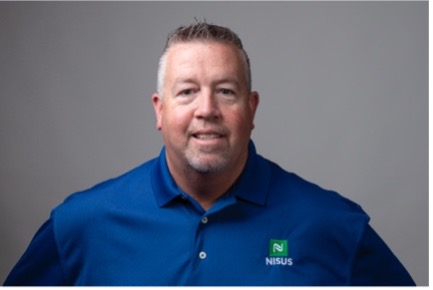 ROCKFORD, Tenn. – Nisus Corporation is pleased to announce that George E. Williams, ACE, PHE has joined the Nisus team. With over 30 years of experience in the pest management industry, Williams will be an integral part of Nisus' presence in the Northeast and in deepening customer support in a region where high population density across urban centers can result in particularly complicated situations for pest management professionals.
Williams, an Associate Certified and Public Health Certificate Entomologist, comes to Nisus with a wealth of industry knowledge. His background includes experience in structural pest control, public health, specialty agriculture, government industries and chemical distribution. About his transition, Williams said, "I have a long-standing, deep respect for Nisus. They have such a talented team of professionals in all aspects of their business and their 'People & Family First' mentality won me over. Additionally, their pursuit of Responsible Care® initiatives and sustainable product positioning solidifies Nisus as a market leader. I am excited to be a part of their dynamic future and represent their ever-growing product portfolio in the marketplace."
The industry veteran's decision to join Nisus makes him the latest addition to a team that prioritizes leveraging their field experience for their customers' benefit. "George is going to make things happen for his customers," said Lee Barrett, President of Nisus Corporation. "As a team, we want to make sure that our customers know that we are here to support them, whether that's by providing them the best products and training, or through technical advice when they're working through complex cases. That's George through and through and why we're excited to have him onboard."
"He is the consummate professional who brings a strong work ethic and a proven track record of building long-term relationships," said John Singletary, Regional Manager, Northeast for Nisus Corporation. He continued, "Fostering these relationships is a result of George's ability to put his customers' needs at the forefront of everything he does. His priorities align with Nisus' mission to listen and understand our customers' needs and to devote all of our efforts to going above and beyond to serve them." Williams and Singletary will work closely together to cover the Northeast region, with Williams focusing on New York, Connecticut, Rhode Island Massachusetts, New Hampshire, Vermont, Maine and northern New Jersey.
Nisus Corporation is a privately-held company that produces sustainable products for the professional pest control industry, industrial wood protection industry and the agricultural liquid micronutrient industry at its manufacturing plant nestled in the foothills of the Smoky Mountains in Rockford, TN.
---
If you would like more information about this topic, please contact Jim Gorman at 800-264-0870.
VIEW ALL
Nisus Corporation is proud to announce that they have earned their Responsible Care® certificat...

Nisus Corporation is pleased to announce that Javier Ramos has joined the company as a Territor...

Nisus Corporation is pleased to announce that Kim Kelley-Tunis is bringing her thirty years of ...